❓ How it Works
Emorya SportsX is the interface that redefines the role of the user and through which the user begins to give green energy to the entire system through his daily activity. Emorya SportsX will be a catalyst of the ecosystem, and you will be the main source of energy by transferring calories burned daily to the ecosystem, where it will reward you through the EMRS asset, which can be converted, respecting the principle of "The 3% Rule" explained in Emorya WP . This opens a flow independent of the ecosystem, and the profile you build in the Ecosystem becomes the vehicle that can take you to the ultimate goal - creating your financial independence through discipline and sport.
Emorya SportsX NFTs: is the first collection of NFTs that will fulfill one of the main conditions to be part of this economy completely independent of the external context. They have an essential role in defining the hierarchy in the ecosystem and will create UNIQUE advantages for all users.
Emorya SportsX NFTs: will give the ultimate personality to your profile, and I will create the advantage of supremacy in the Emorya community by the fact that you are one of the strategic and initial investors of the ecosystem, an initial pillar of the program.
Emorya SportsX NFTs: will have an initial mining power and will boost your daily sports activity, giving you the advantage of accelerated mining of the $EMRS asset.
Emorya SportsX NFTs: will function as a measurable economic asset that you will be able to turn into financial value by increasing its economic value.
Emorya SportsX NFTs: become an investment program and will represent your economic value in the ecosystem, for which you will decide.
Emorya SportsX NFTs: is a FINANCIAL GUARANTEE certificate like a certificate of investment because they will be able to be traded, transferred, and capitalized in the main EMR currency, either through an exchange with the community or through listing on the 2nd-day market and redeemed by ECOSYSTEM.
Emorya SportsX NFTs: is every user's economic security.
Emorya SportsX NFTs: offer you the opportunity to create your own team in the Emorya ecosystem, from which you will have unlimited benefits.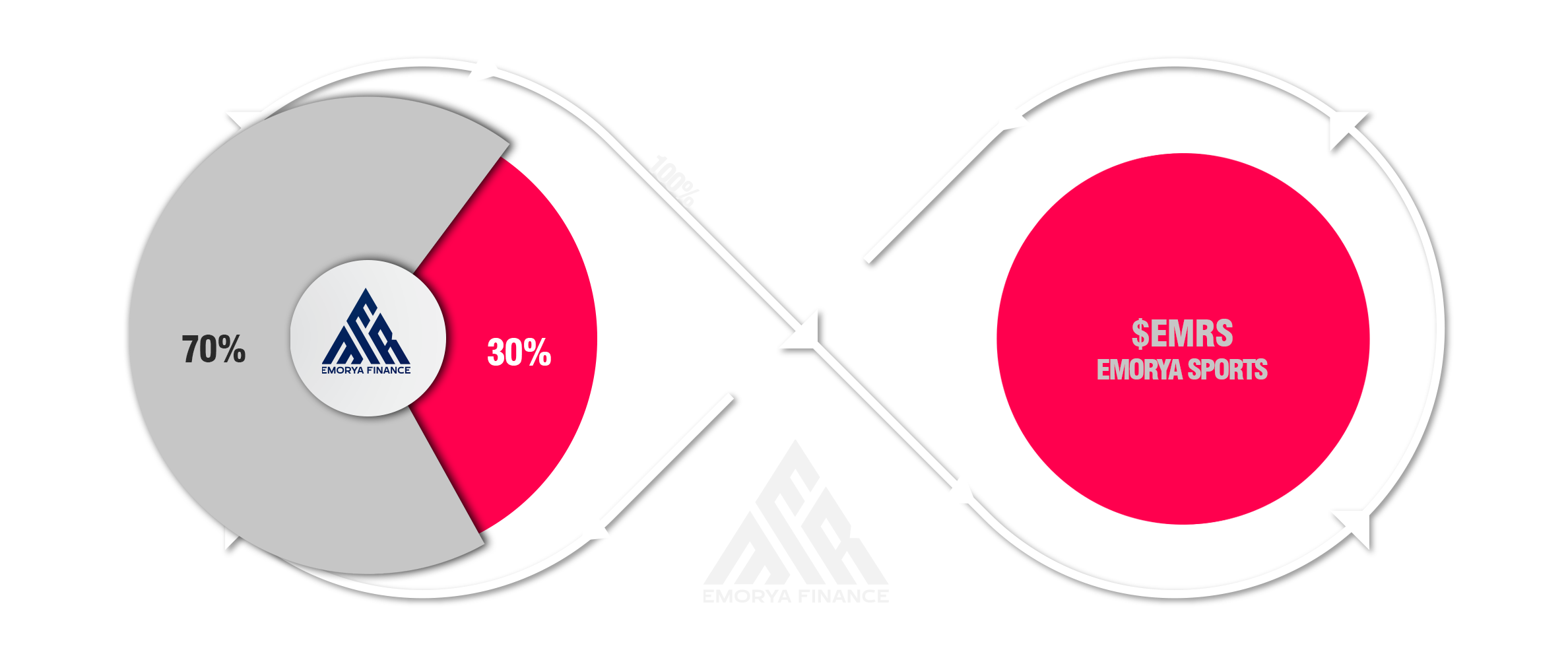 The $EMR hyper-deflation function redistributes 12% of the transaction amount, where 50% of the Emorya team's funds will be continuously invested back into the project to drive growth and adoption.